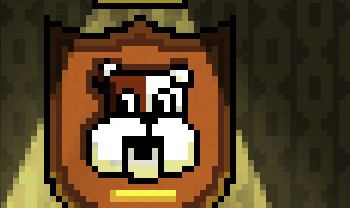 A brief where my aim was to make Winston Churchill more popular among 11-18year olds.
Two games have been created in Flash for this project with the two characters Churchill & Churchill battling against one another. This required me to relearn Action Script 3 as I hadn't used it since first year and was a little rusty.
Cigar Game – http://davidmaunder.com/flashGames/cigar.html
Avoid Churchill – http://davidmaunder.com/flashGames/avoid.html
The game artwork has also been created in a postcard series which would be free and help raise the interest of the game amongst children. These images are also printed in an A2 poster format to decorate any teenagers bedroom.
A British 8bit style musical soundtrack has been created for the game, with renditions of 'Rule Britannia' and 'God Save The Queen' included in the games.
And finally, within this whole visual identity, I've created the typeface "PIX-DINGS" which is used throughout the games and visual merchandising. It's based on the original lettering I created when making the pixel art for the first version of the "cigar game".
PIX-DINGS includes all punctuation and symbols, which means it can be used for any media that is needed for the Churchill vs. Churchill brand as it is not restricted to letters only.