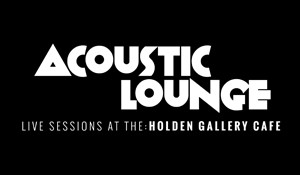 Myself and Sophie Nolan put ourselves forward to help out in a term long project, looking at creating posters and re-branding for the Acoustic Lounge event that is put on in the Holden Gallery Cafe.
We took it upon ourselves to go deeper than just the posters and have redesigned the Acoustic Lounge Facebook page as well as ensuring that the event is promoted a lot more across multiple social networking platforms.
We created a bold looking logo that would work well on both posters and social media.
We felt it was essential to add a picture of the artist performing each week onto our posters as none of the people playing are well known so it ensures people can get a sense of what to expect. We felt this was what was lacking from previous poster designs and could potentially put off prospective viewers.
We went with the hand drawn element to add a more intricate and personal touch to the posters which we felt would reflect the acoustic music style that is played at these performances. In our drawings we also used the typeface from the artists website to maintain their own look.